HubSpot CRM
HubSpot Implementation and Onboarding
HubSpot is the most complete and powerful full-stack solution for marketing, sales, and customer service teams available today. If you are planning to introduce HubSpot to your business then we congratulate you on a wise decision!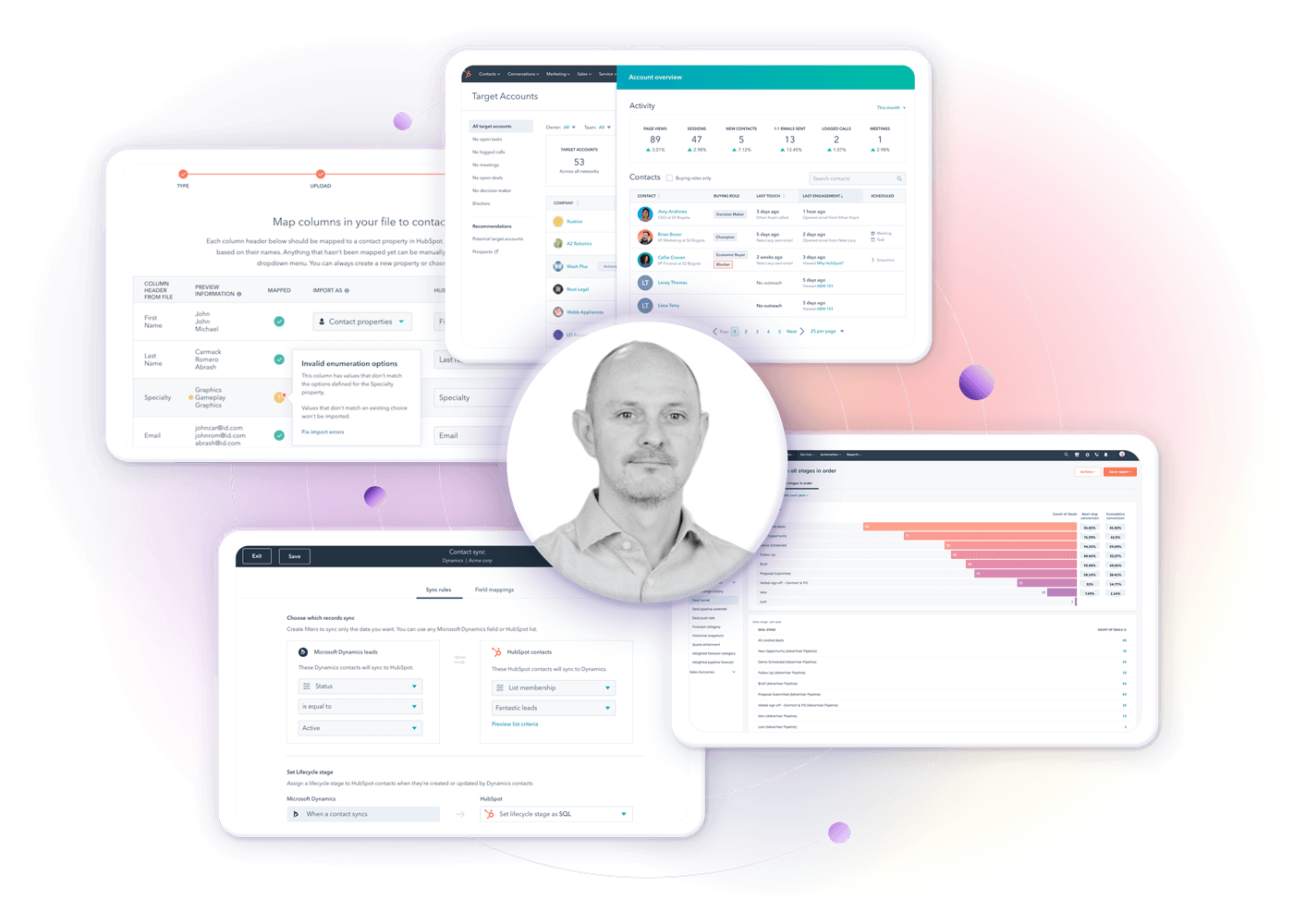 We help ensure your move to HubSpot is a resounding success
Your business is unique and implementing a CRM can be more complex and time-consuming than expected. If you want to get the most out of this powerful toolset as early as possible then you need an experienced and certified onboarding partner.
At Growth London we take great pride in helping businesses implement HubSpot in a smooth and confident manner. We use the unique opportunity of CRM migration to help you improve your data quality and build more efficient processes along the way, setting the scene for growth.
Working with us means you will migrate from your old CRM to the HubSpot platform and onboard your team the right way.
Scaling Up with Growth London and HubSpot CRM
"Growth London played a pivotal role in the success of our new CRM implementation. Their expertise in transitioning from disparate tools like Pipedrive, Autopilot, and Mailchimp to the highly efficient HubSpot CRM was invaluable. One of the key highlights of our collaboration was Growth London's playbook, which helped us build a best-practice CRM. This new system redefined our sales pipeline and is allowing us to scale our business effectively.
Jonathan's commitment to our success was evident in every interaction. He provided training, onboarding, and education to our sales team, ensuring that everyone was fully bought into the new system. The result was maximum productivity and success.
We highly recommend Growth London for anyone looking to streamline their sales process and achieve their business goals. Their expertise and exceptional customer service make them an ideal choice for businesses looking to make the most of their CRM system."
Services provided: Account based marketing, crm implementation, crm migration, email marketing, full inbound marketing services, HubSpot onboarding, sales and marketing alignment, sales coaching and training, sales enablement, and website development
Looking for more detail on our onboarding services?
Let's start at the beginning
Growth London specialises in partner-led onboarding. It means that we work with you from the very outset of your HubSpot journey all the way through to successful implementation and beyond.
In an ideal scenario we participate in the pre-purchase / negotiation phase where we work closely with the sales team at HubSpot to ensure you get the best package and pricing. We also arrange to waive HubSpot's mandatory onboarding fees.
Then we deliver our world-class onboarding services, tailored to your business and requirements, to make your journey to HubSpot as seamless as possible.
At Growth London we don't expect you to do tickbox or DIY onboarding. Nor do we hand your account to junior staff or outsource to white label agencies. You will work with a senior consultant from day one so that you can take full advantage of HubSpot for marketing, sales, customer service and operations as soon as possible.
Full service CRM implementation across the entire customer lifecycle
We have expertise in implementing all of the 5 HubSpot "hubs" across a wide range of sectors and businesses. From fairly straightforward single hub setups on Starter tier all the way through to complex full-suite Enterprise tier projects. Rest assured that with our flexible and consultative approach we will adjust to meet your timescales and requirements.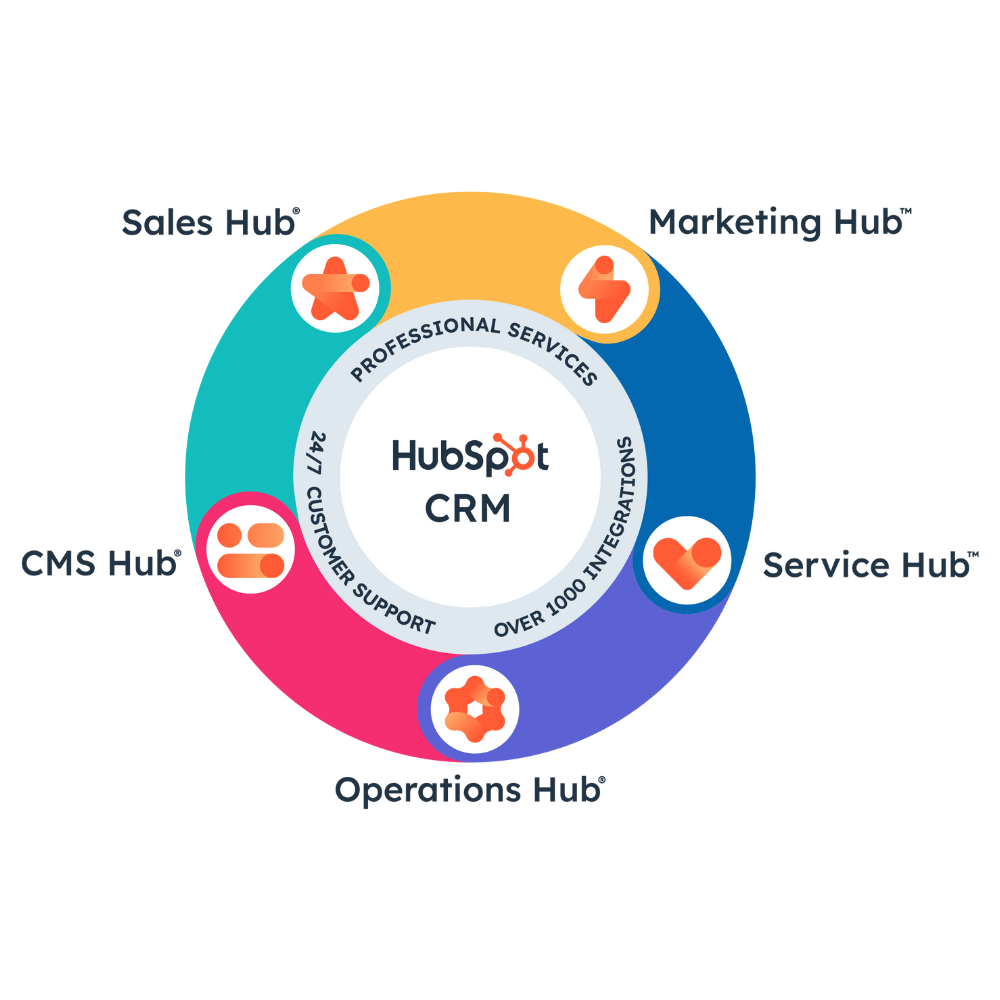 MARKETING HUB ONBOARDING
Flawless marketing automation
Looking for flawless marketing automation and accurate revenue attribution reporting? From intricate marketing funnels to full-scale email campaigns, the HubSpot Marketing Hub delivers the tools you need to convert visitors into customers with landing pages, email, marketing automation, ABM, and more.
Full scoping to understand your lead acquisition channels, target audience, customer journey, marketing plans and goals
Implementing lead source and revenue attribution across all channels including lead quality triage and reporting
Setting up custom properties, views, lists, reporting, dashboards, landing page & email templates, workflows and more
Technical setup including things like website integration, replacing website forms, email sending and primary domain(s) & tracking code
Connecting social media and Ad accounts for PPC and paid social including conversion tracking
Expert data migration from old CRM / Marketing system(s) to your fresh new HubSpot portal
Integration with external Sales CRMs (e.g. Salesforce) and 3rd party tools via the HubSpot App Marketplace
Complete training and onboarding for your marketing team on how to use Marketing Hub effectively
SALES HUB ONBOARDING
Powerful sales acceleration
Give your sales team the tools they need to skyrocket your sales. With HubSpot Sales Hub, tracking the progress of deals, getting oversight of your sales funnel, and automating follow-ups is a breeze.
Full scoping to understand your sales cycle, revenue model, target audience & buying personas
Sales team user setup, email and calendar integration, browser extension & templates
Expert data migration from old CRM via manual data export & import or using an API integration tool
Setting up custom properties, views, pipelines & deal cards to match your sales process
Product line items, quotes, Playbooks, outbound Sales Sequence automation, templates and more
Goals and forecasting, sales activity and revenue related reporting and dashboards
Defining the lead flow and lifecycle definitions, lead qualification process and requirements
Complete training for your sales reps and sales management on getting the most out of Sales Hub
Service Hub Onboarding
Closing the loop on Customer Success
Customer Success requires customer-centric onboarding and service — and that's just what the HubSpot Service Hub delivers. A complete suite of service software to help connect with customers, exceed their expectations, and automate processes.
Full scoping to understand your handover from sales to customer service / success team
Service team user setup (email and calendar integration, browser extension)
Customer portal and knowledge-base setup along with website and chat integration
Setup custom ticket pipeline(s), properties, record views, playbooks and support templates
Build customer success pipeline with onboarding automation and data capture from sales team
Customer surveys and feedback (NPS, CSSAT) along with customer service analytics and reporting
Setup of Conversation Inbox for support enquiries and ticket routing. Support related automation.
Complete training for your service and customer success teams on getting the most out of Service Hub
HubSpot CMS Hub
Turn your website into a marketing machine
CMS Hub has everything you need to build a powerful, optimised website that converts visitors into leads flawlessly across every device. Your website will be fully integrated with your CRM and your marketing team will love the ability to manage the website, landing pages and blog right from within HubSpot.
Growth London are experts at migrating from old and clunky website platforms that require expensive support and maintenance to HubSpot's truly brilliant CMS platform.
Learn more about our CMS services