HubSpot CMS
Website Development
Your company's website should be its best-performing sales rep. Instead of anonymous visitor sessions, it should produce qualified leads. We design and develop HubSpot CMS websites that fuel your growth.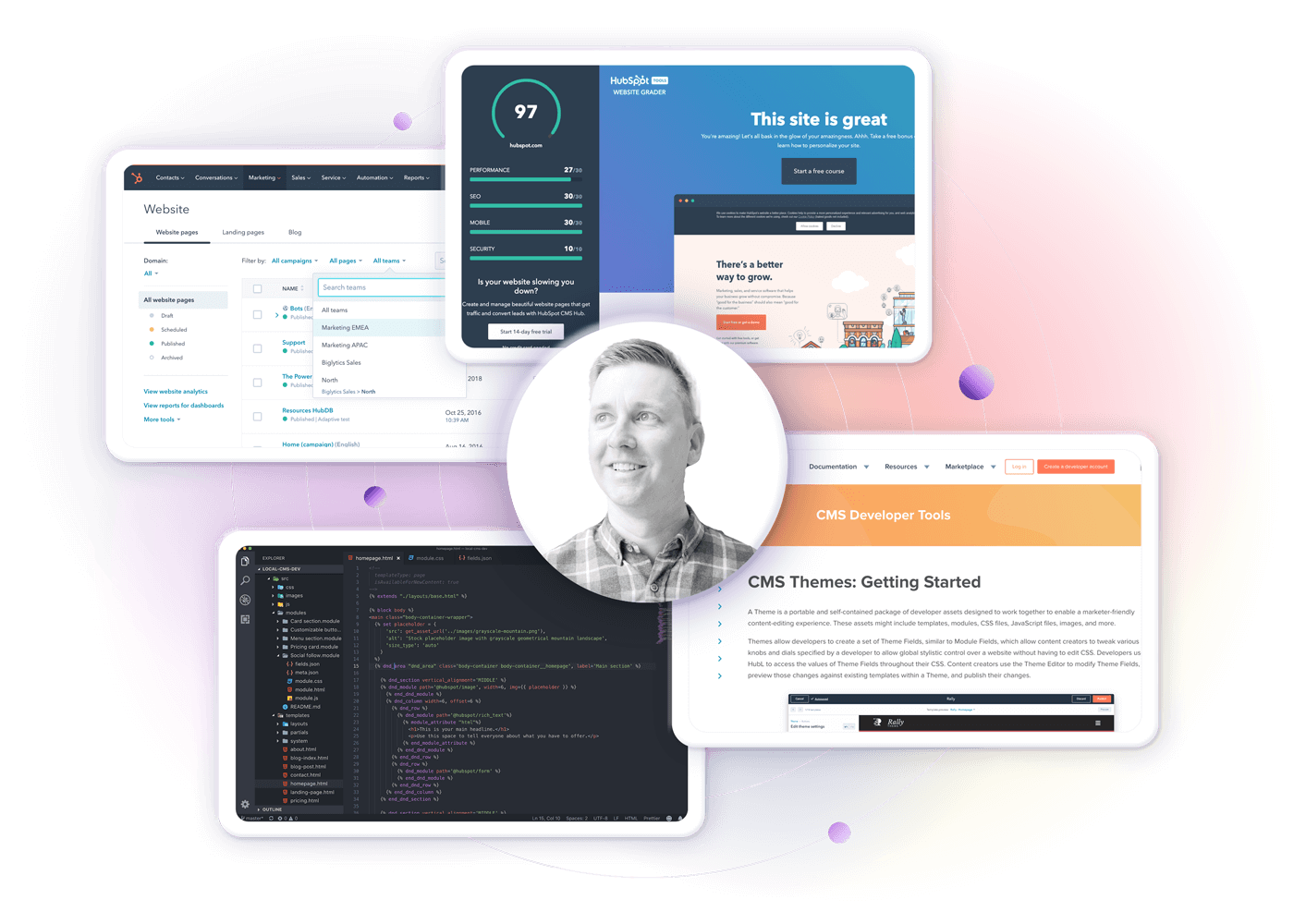 We build websites that fuel your growth
At the heart of any successful business is a well-designed website that serves as a foundation for growth. Our HubSpot CMS website design and development team is committed to crafting compelling and engaging online experiences for your customers.
We work with you to create a website that is easy to manage, reflects your brand and helps you achieve your business goals whilst being optimised for conversion across every device.
From visitors to leads
Website strategy and design
In our experience, building a website without proper planning is a waste of resource. Our website strategy starts with auditing your current site; content and data. Next, we'll benchmark your competitors and do an SEO audit. We analyse your keywords, make recommendations and create a solid conversion plan to attract visitors and convert them from anonymous visitors to identified leads.
We build the information architecture with sitemaps and wireframes and plan the necessary modules. We design the user interface so that it matches your brand guidelines. If you don't have a designer, we can create the visuals for you.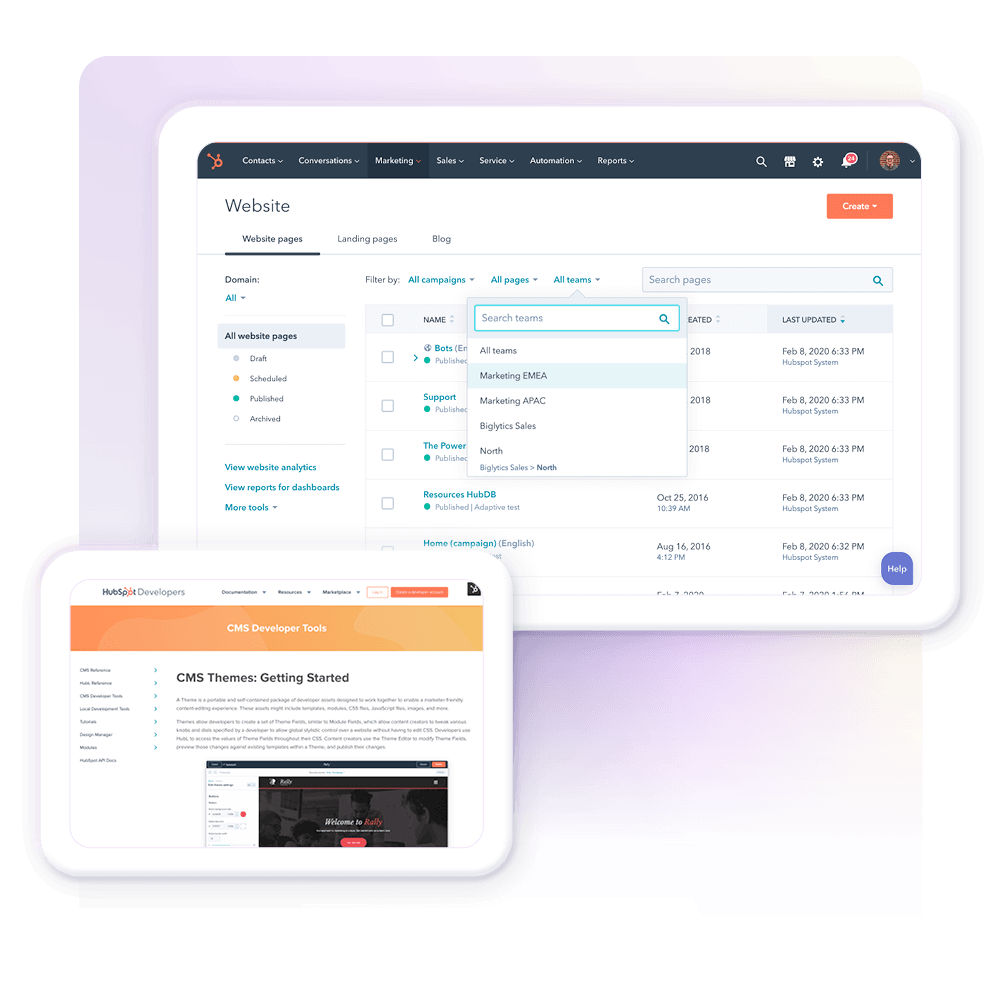 Design and functionality
HubSpot CMS Development
We develop your HubSpot CMS website from scratch or as a custom solution based on a marketplace theme. Sometimes a marketplace theme is a good starting point for your website, but it's worth noting that if the theme requires a lot of customisation and the available modules or UI don't quite fit your needs, it may be more cost-efficient to go with a custom solution. We are happy to provide insight about which option would make the most sense.
Our HubSpot CMS development covers custom modules, custom themes, global partials and navigations, HubDB database creation, dynamic content, membership pages, email templates, CTAs, and forms – whatever you need to make your website stand out and work as the marketing and sales engine your team deserves.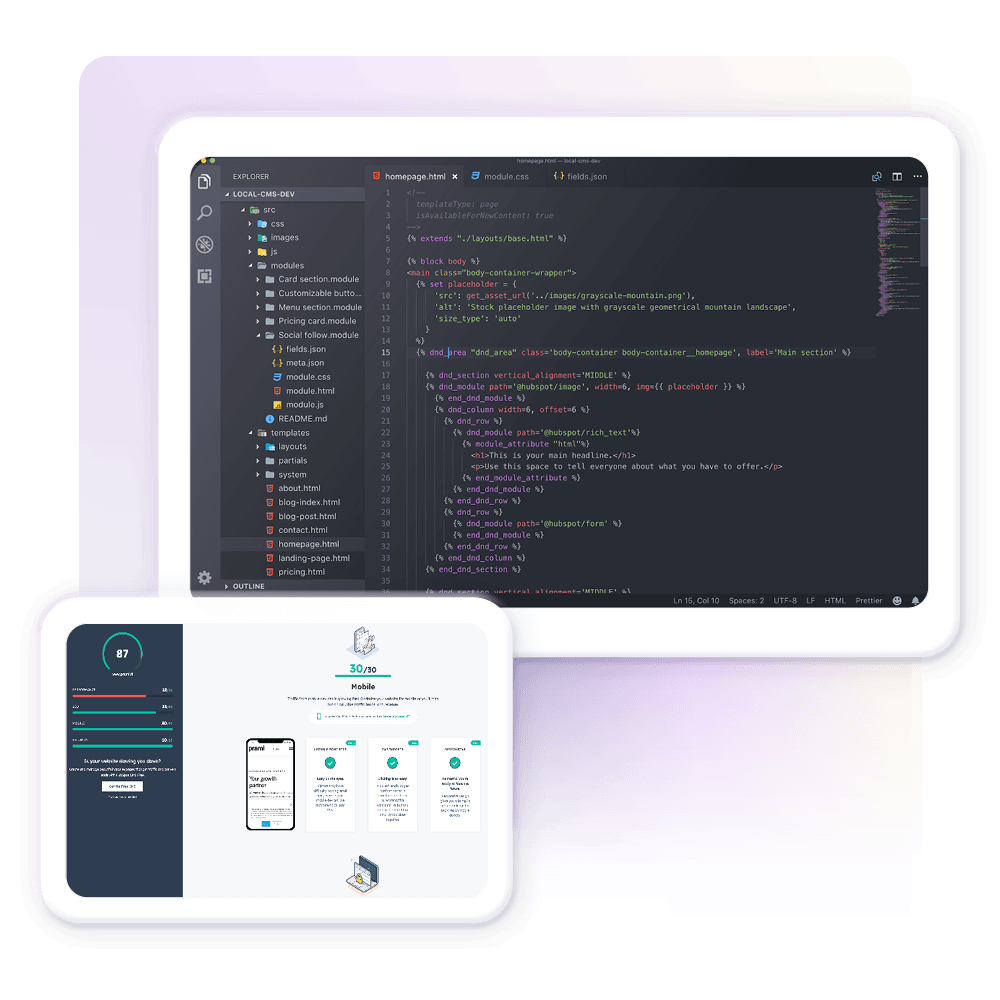 Boost organic traffic
SEO audits and improvement
Do you already have a HubSpot CMS website, and you are looking to improve your website's performance scores?
Our SEO audit and improvement service takes into consideration on-page and technical best practices. Use it as an opportunity to increase organic traffic and generate more leads for your business.
We'll do an analysis of your website's current search engine performance and site speed and identify then implement potential areas for improvement.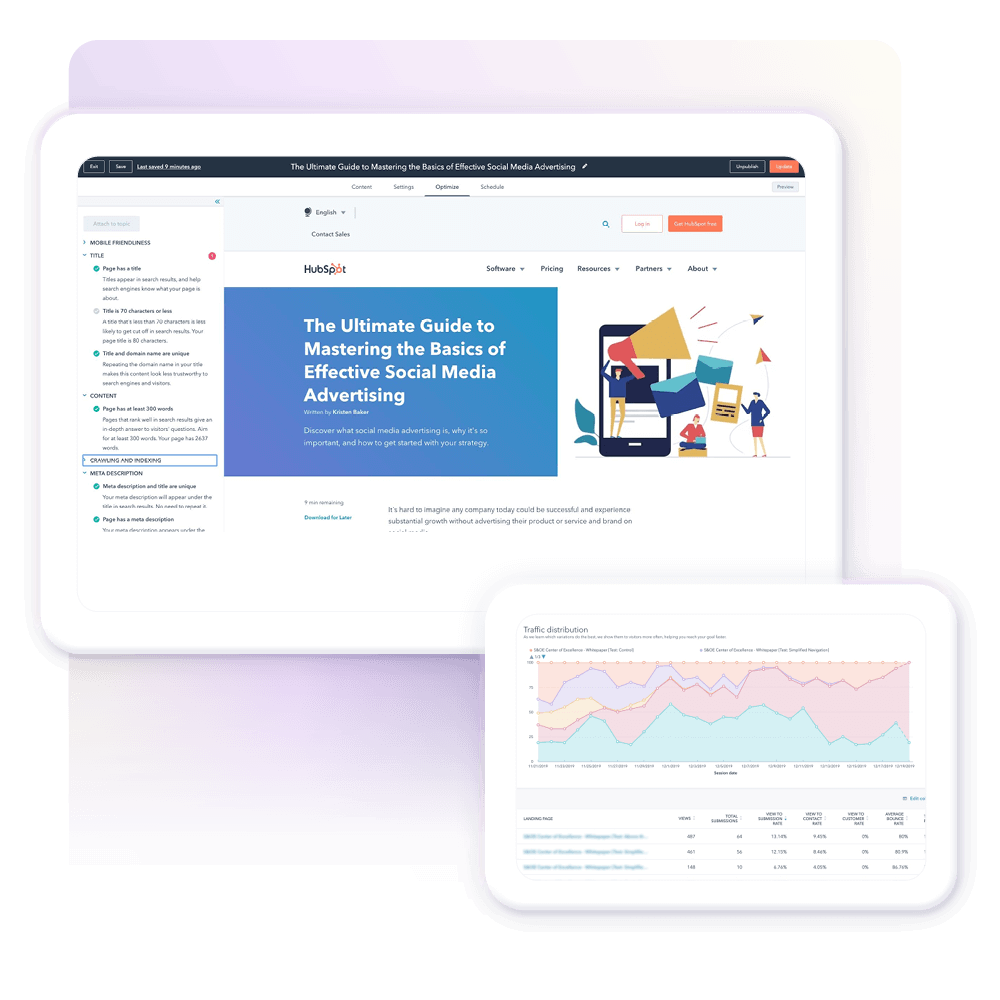 Optimise and grow
Ongoing HubSpot CMS Support
If you need a HubSpot developer for a short term project, or ongoing support to maintain and build new assets for your website – we're here for you.
We can assist with on-page SEO, new landing pages, forms and workflows for marketing campaigns, A/B testing and new modules either as ad hoc or ongoing support.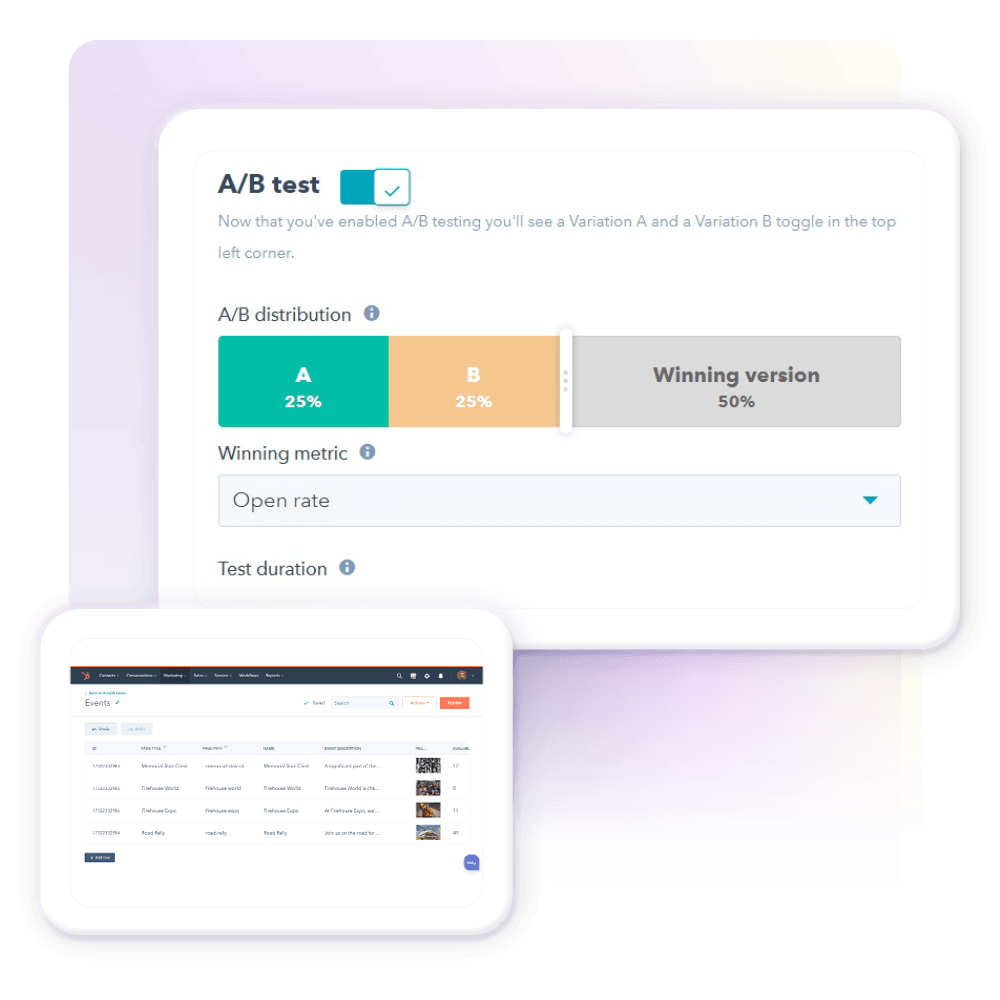 Recent CMS Hub projects
If you'd like to know more or hear the story behind any of these examples, don't hesitate to get in touch.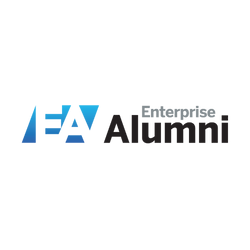 EnterpriseAlumni
From Wordpress to HubSpot CMS
EnterpriseAlumni is a market-leading alumni engagement platform used by companies like Coca Cola, Google and Swarovski to power their alumni programs.
We developed Enterprise Alumni's new website and re-platformed it from WordPress to HubSpot. We provide ongoing CMS support and assist with new landing pages and SEO tasks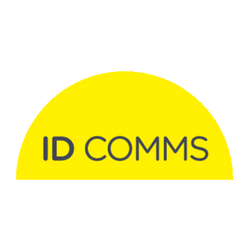 ID COMMS
Rebuilding an existing site and improving SEO
ID Comms serve the worlds biggest brands, including IKEA, Puma, Heineken, SAP and many more, by helping them gain maximum benefits from their media investments.
We ran an SEO audit followed by a complete website rebuild, implemented pillar pages, new landing page templates for improved functionality and easier website management.
Pixie
From Webflow to HubSpot CMS
Pixie is a practice management software for accounting firms. We helped Pixie to re-platform from Webflow to the HubSpot CMS.
The platform change allowed Pixie to utilise HubSpot's dynamic pages and HubDB, the relational database within the HubSpot CMS.