HubSpot CRM
HubSpot Consulting and Optimisation
Already have HubSpot but looking for an experienced consultant to help you get more out of your CRM? We have worked with dozens of companies to improve their return on CRM investment and who require additional support and guidance on their HubSpot technology.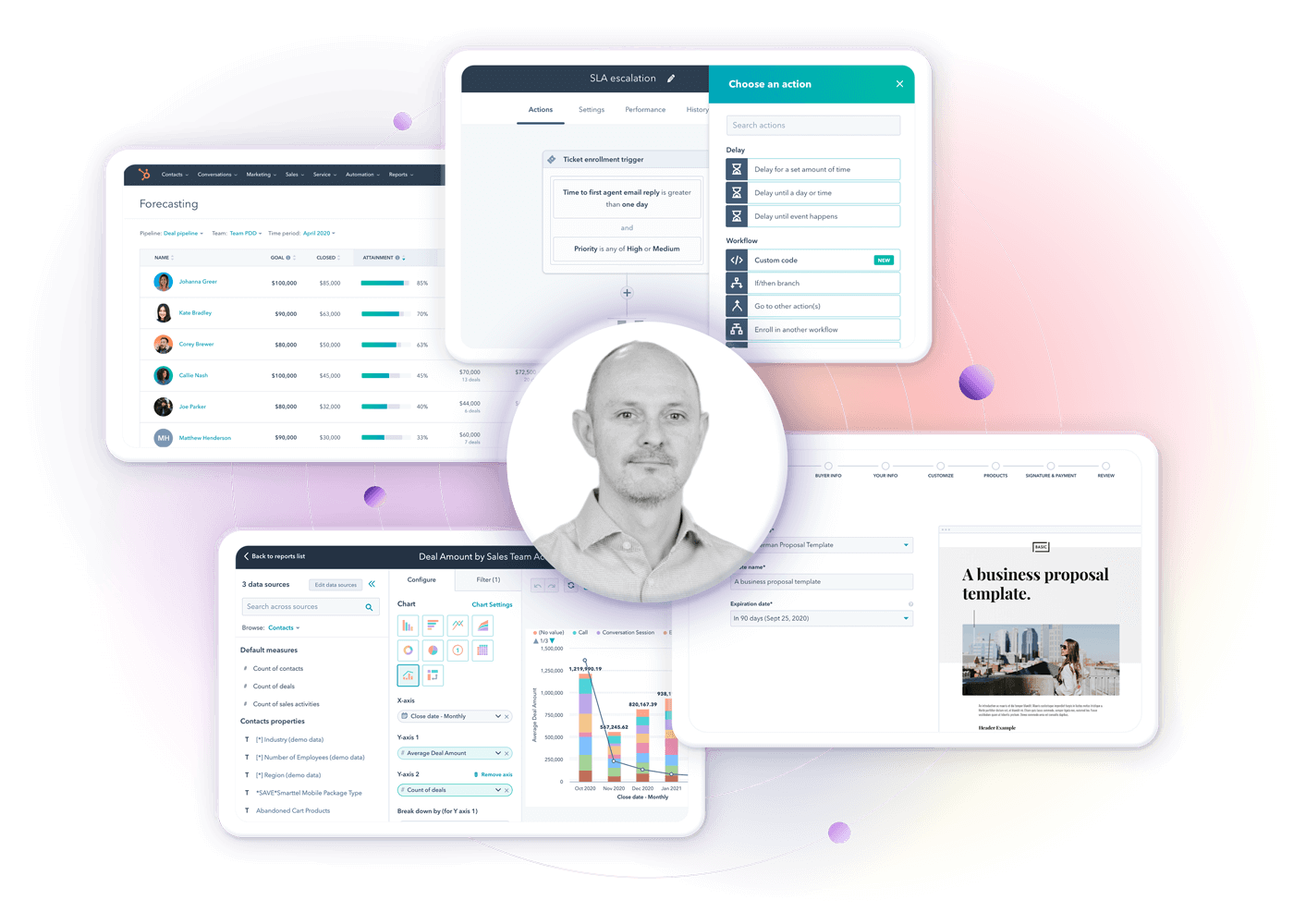 Get more out of your CRM
A common request we receive is for "re-onboarding" where the initial onboarding project did not go to plan. We also work with clients looking to upgrade from Starter to Pro or Pro to Enterprise. Some clients want to expand and add additional hubs. We regularly assist with setting up reporting, automation and delivery of training.
Our services can be on an ad hoc or ongoing basis and as always you will work directly with an experienced consultant.
A fantastic company to do business with
Growth London was fantastic in helping us nail down our sales and marketing processes and reflecting them in HubSpot. They know HubSpot inside out, which enables us to really get the best out of the platform. Jonno ensured that all processes were well documented, to assist all new team members working across sales or marketing functions in the business. You will not be disappointed with Growth London's work, I couldn't recommend highly enough.
Services provided: HubSpot consulting, process improvement, reporting
Highly recommended!
It has been an absolute pleasure working with Jonathan Price from Growth London these past six months. With much foundational work to start with and not letting running campaigns fall to a standstill, Jonathan did not hold back and has gone above and beyond to provide Browzwear with the support and expertise to pull us forward with confidence. Jonathan goes the extra mile to provide a detailed analysis for each use case we present him with, and carefully solves any challenge, taking into account the entire automation structure and dependencies. He thinks outside the box and stays up to date with new features and functions released by HubSpot.
Services provided: HubSpot consulting & ongoing admin support
Structured our CRM to help us manage a fast-growing B2B SaaS for SMBs
We approached Growth London as we felt we were losing control of our CRM data and were unable to make effective use of customer segmentation and email nurturing. Within a few weeks, they helped us restructure our data, improved our lead attribution, set up workflows for nurturing and best of all they left us a number of dashboard to monitor data quality going forward. Best in town in my opinion: effective and efficient.
Services provided: HubSpot consulting and optimisation
Looking for more detail on our Consulting and Optimisation services?
When onboarding goes wrong
HubSpot re-onboarding
If you purchased HubSpot directly and did DIY onboarding, or if you had a less than optimal onboarding experience from another agency, then Growth London can help get you back on track.
Whilst retro-fitting best practices to a live CRM that is in daily use is less than ideal, we are experienced at doing so and we've helped dozens of businesses improve their CRM setup.
PS. if you have not yet purchased HubSpot then be sure to check out our onboarding services to ensure you don't require re-onboarding in the future!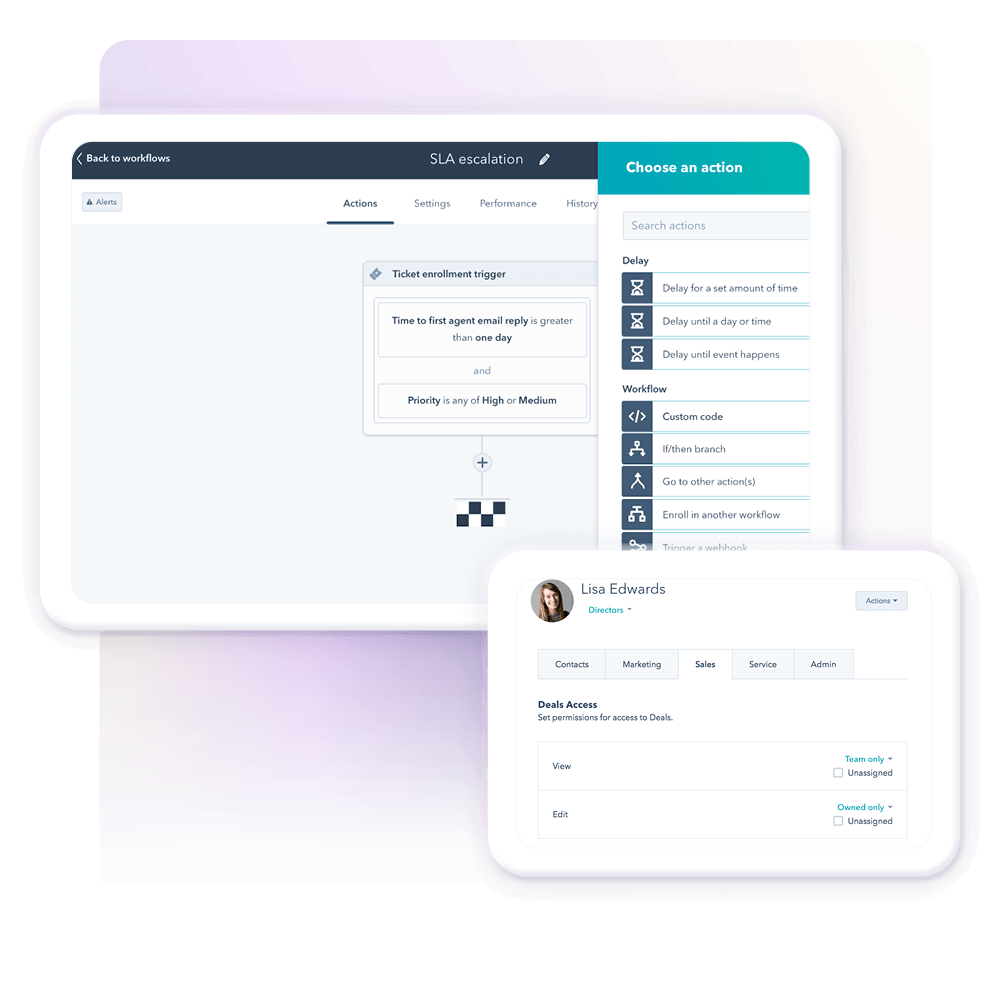 Data + Insight = Better Decisions
HubSpot reporting
HubSpot's built-in reporting and dashboard functionality has improved vastly over the years, especially since the launch of custom multi-object reports.

The custom report module has a steep learning curve, which is where we come in. Whilst the pre-baked reporting templates are great, they usually require customisation to match your unique business setup and requirements.
We help turn HubSpot into the source of truth for all your data and then build powerful, comprehensive analytics reports and dashboards to power your decision-making.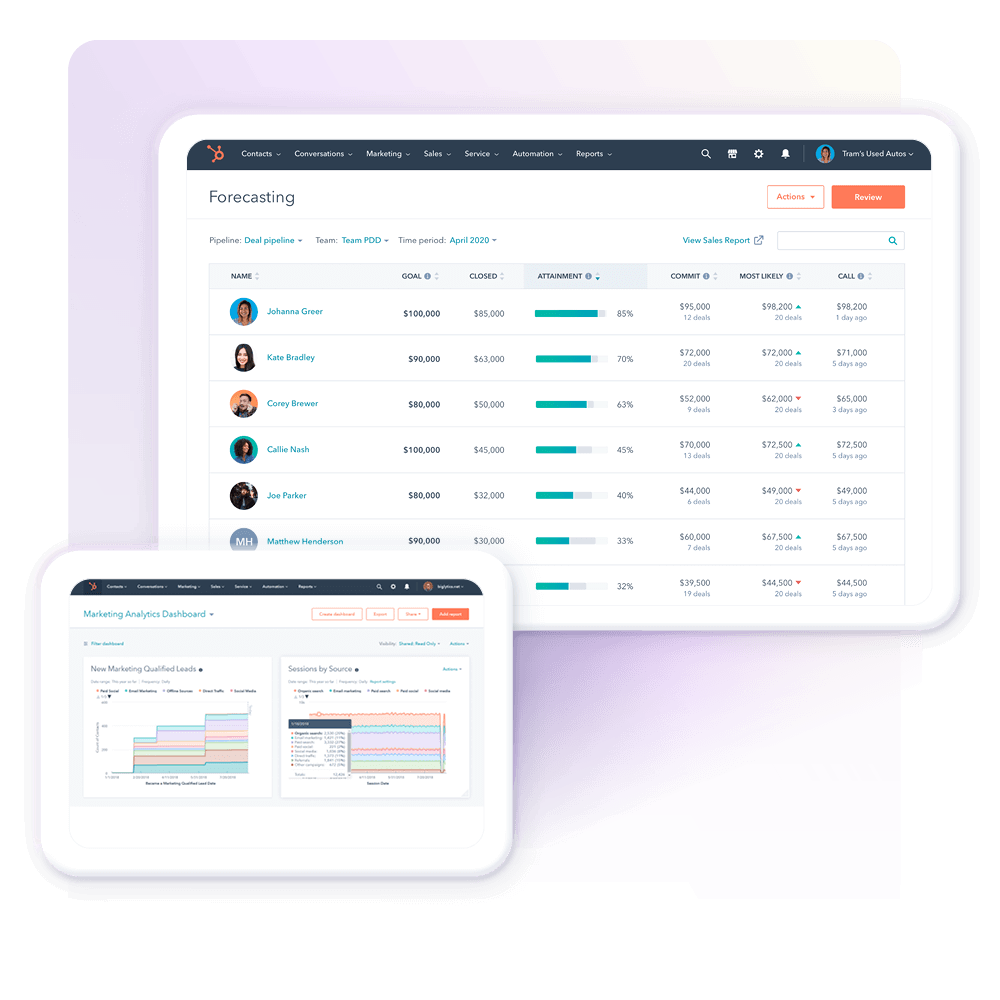 The more of HubSpot you use, the more powerful it is
Expand usage of HubSpot in your business
One of the biggest advantages of HubSpot's modular design and tiered approach to pricing is that you can start small and "grow" into HubSpot as your business processes and CRM requirements increase.

We work regularly with scaling businesses who benefit from expanding the implementation of additional HubSpot functionality in the business.
For example you may have started with Sales and/or Marketing Hub and now wish to bring your customer service and success function into the same CRM. Or you have HubSpot powering your marketing automation and now want to bring the sales function onboard. No matter the requirement, we can assist.